The Team Tournament

The principle is simple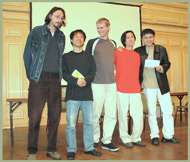 Looking for a place to stay in Paris ?
Teams are composed of 4 players from the same club (or country if the number of players is too low). Each team gets the sum of scores of each member at the end of the tournament.
In 2006, the winner team was the Kamizim Team who placed ahead of the Azcool from Antony and the Observators from the XIVth.
Cristian Pop, Wataru, Benjamin Teuber, Motoki Noguchi & Fan Hui
| | |
| --- | --- |
| Kamizim Team | 19 |
| NOIR Baptiste | 5 |
| THAO Soulivanh | 4 |
| BREBION Nicolas | 4 |
| SAVINEAU Frédéric | 6 |

| | |
| --- | --- |
| Azcool Team | 18 |
| DELANNOY Adrian | 6 |
| PIERRON Thomas | 4 |
| CROMBEZ Etienne | 5 |
| BOCLE Milena | 3 |

| | |
| --- | --- |
| Observators | 17 |
| JOLY Romain | 4 |
| MORIN Laurent | 4 |
| ANCHER Frédéric | 3 |
| PONCET Jean-Bruno | 6 |